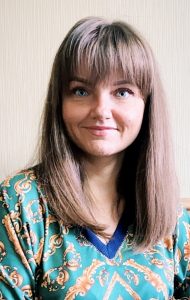 Assistant of the Department of Ukrainian Studies pluralist, Deputy Head - Head of the Department of Planning the Educational Process of the Educational and Methodological Department of KhNUIA
Education and Career
In 2005 she graduated from Kharkiv National University of Internal Affairs and received a master's degree in Law.
In 2019 she defended her dissertation for the degree of Candidate of Law on the topic "Administrative and legal principles of providing educational services by higher education institutions under specific conditions of study" in the specialty 12.00.07 "Administrative law and process; finance law; information law".
In 2019 she passed advanced training on the course "Ukrainian literary language".
---
Educational activities
She teaches subjects "Ukrainian professional language"
---
Research activities
She takes part in international scientific conferences with report publications in scientific collected articles.
---
Scientific publications
She has 10 scientific works.